These pictures were taken at the Donau Ring classic race organised by Audi in their home town of Ingolstadt. The event was run on the 4th & 5th of May 2002. The last Donau Ring was in 2000.
When I went to this event I lived in Germany, but if I were coming just for this then I'd get a hotel in Munich & go to Ingolstadt for the day. I'm sure its a nice town but like the Isle of Man, I don't think there's a great deal to do when the races aren't on.
On a technical note, these pictures were taken on a Panasonic GRDVL 100 digital video camera.
Click here to go to an Index of all pictures...
or just scroll down to see them in order.
Click on any picture to see a larger image.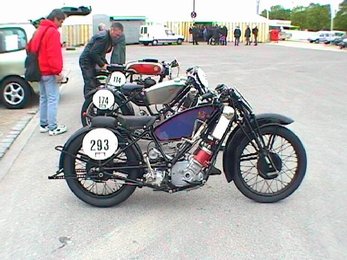 114 Gunther Lingelbach, 125cc Bultaco TSS, 1958174 Manfred Schweiger, 600cc Silk-Scott, 1930293 Manfred Schweiger, 600cc Scott TT, 1929


114 I guess this is Herr Lingelbach !

320 Dr. Gisbert Nierle, 500cc BMW R50, 1955

Trumpet mouthed carb of the BMW R50.