Cars & Bikes at the Deutches Museum
Click on any picture to see a larger image.
My private car collection..... in my wildest dreams... Front... Auto Union Grand Prix type C,Middle... Mercedes Benz W154, Rear... Mercedes Benz 300 SLR.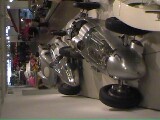 Auto Union Grand Prix type C. Auto Union AG, Zwickau, 1936. One year after its creation, Auto Union AG used the plans from Ferdinand Porsche to develop this independant suspension, (then radical) rear engined V16 monster. What it lacked in looks it made up for in power with 520 hp, dry weight of 750kg & a top speed of 212 mph.

A supercharged V16. Bore 75mm, Stroke 85mm, Capacity 6010cc.