Donau Ring Ingolstadt
These pictures were taken at the Donau Ring classic race organised by Audi in their home town of Ingolstadt.  I had seen an poster for this event about a week previously in Munich. On Saturday 20th May in the morning I took the train from Munich to Ingolstadt & then the bus from the station to the bus depot.
I was concerned that once I got to the bus depot I might require further transport to the Ring as I imagined it was a special circuit built by Audi. Wrong ! Essentially the race track is the ring road in the centre of town.  It was only 200 yards to the entrance from the bus depot & although I couldn't see which way to go, I could certainly hear it ! Blown NSU works racers are not quiet !
 The event is organised into morning & afternoon sessions with the morning program repeated in the afternoon. This civilised idea allows the slug-a-beds a chance to turn up after lunch & still see the whole thing.  Also, more critically, if one half of the day is washed out by rain, it still means that everyone gets their turn on the track.
The event itself was superbly organised and reminded me of the classic meeting at the Isle of Man TT.  Although only one day I would say this is worth coming to see from Britain, especially if you live close to a major airport.  Direct, return flights to Munich can be had from as little as 80 pounds and flights can be made from Birmingham, Stanstead, Heathrow or Gatwick.
When I went to this event I lived in Germany, but if I were coming just for this then I'd get a hotel in Munich & go to Ingolstadt for the day. I'm sure its a nice town but like the Isle of Man, I don't think there's a great deal to do when the races aren't on.
I bought a program for this event which turned out to be invaluable as many of the bikes were completely new to me & I wouldn't have had a clue what I was looking at without it.
Unfortunately, I have temporarily misplaced it so some of the picture descriptions won't have as much detail as I'd like until I can lay my hands on it again.
On a technical note, these pictures were taken on a 35mm camera & then I held up each picture to my digital camcorder (JVC DVL100) and took a video of each photo. There are 2 main outputs from this camcorder. One is for video to PC & the other is for digital stills.
I've not yet got the special cable to connect the camcorder to download digital stills but I did manage to do frame grabs from the captured video footage. The quality of the grabbed frames is about half that of the digital stills.
When I get the cable I'll re-capture these images in higher resolution & offer a choice of low, high or super-high resolution when you enter this area.
;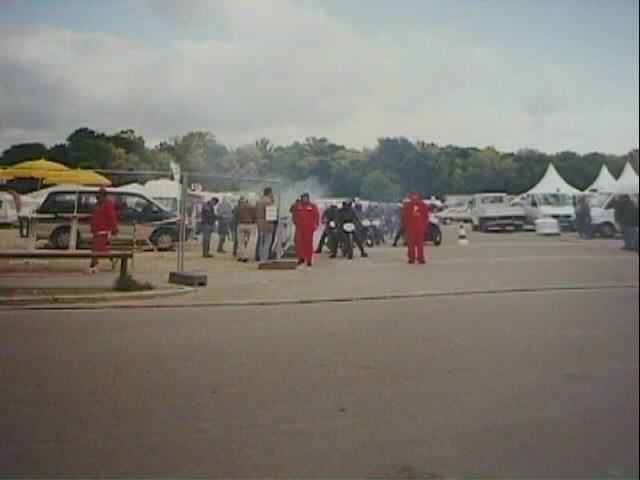 Smell the Castrol R !
Waiting for the start, the field is dominated by NSU & DKW strokers.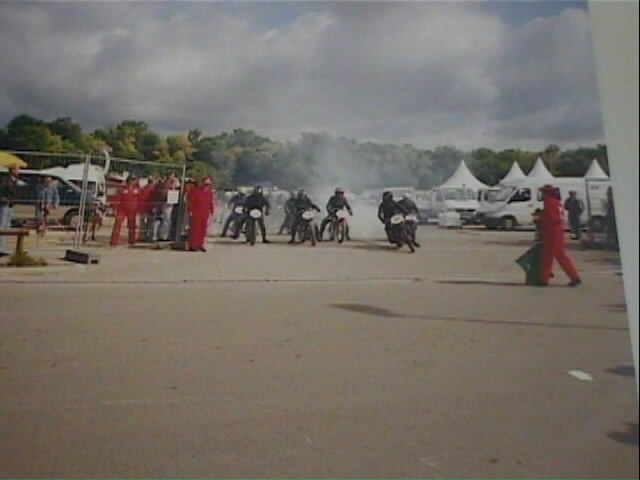 And they're off !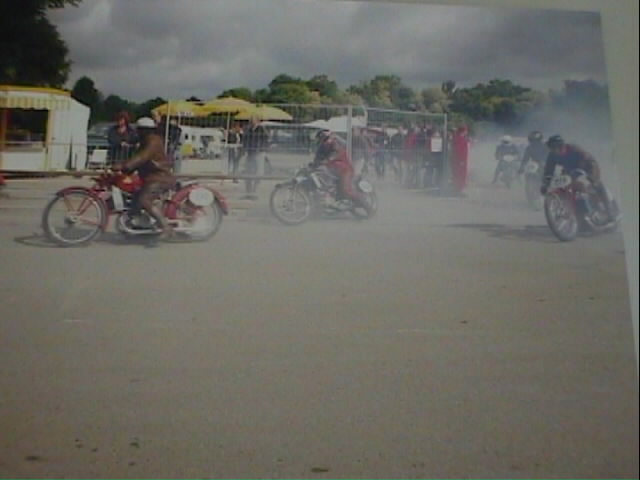 Hack, splutter, cough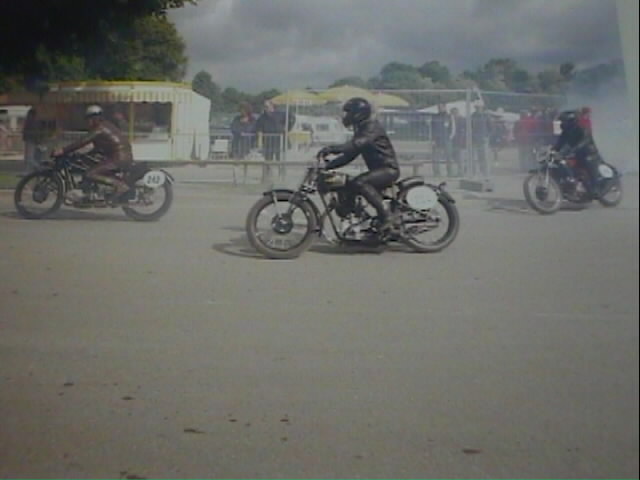 Crikey Ginger ! Its some brit iron come to show the Bosch how its done !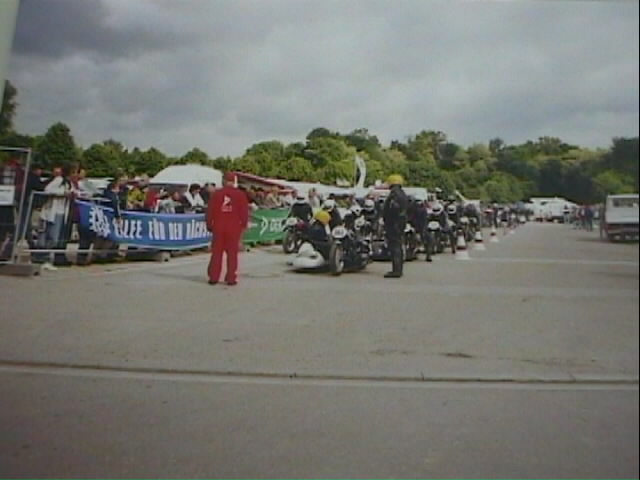 The side car nutters line up. The blown factory BMW's are clearly favourite in this race. Somewhere in this melee is a home made, double overhead cam, four cylinder outfit. See 'Pictures from the Paddock' for a better look !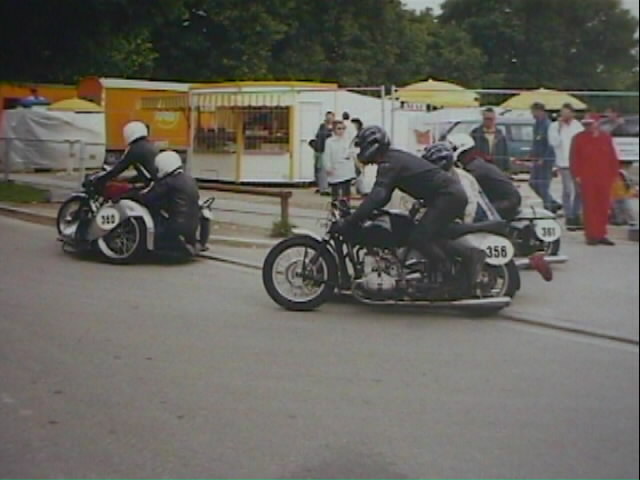 Ro80 sidecar outfit.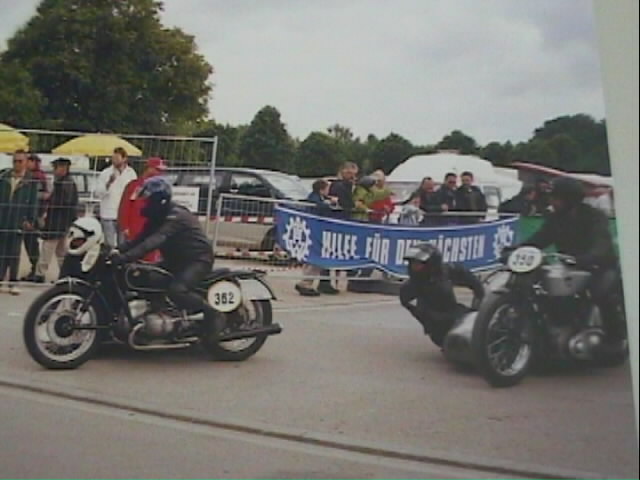 And another.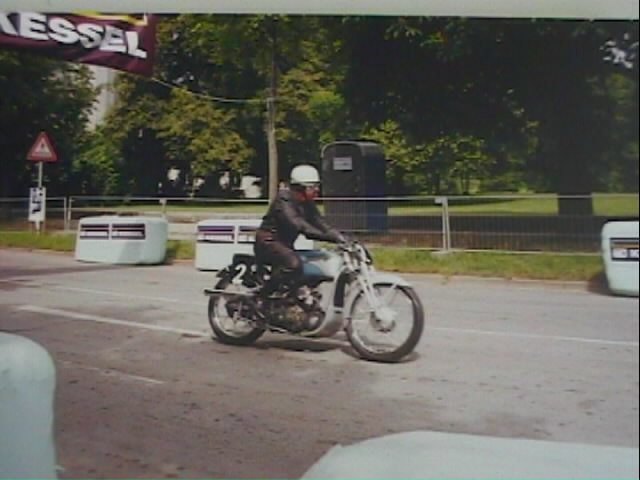 Back to the solo riders. An NSU RennFox (250cc)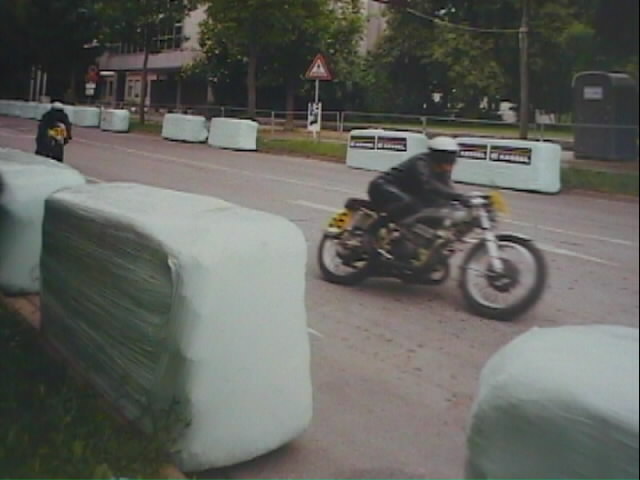 Followed by a RennMax (500cc). Look how far over this guy is on razorblade rubber.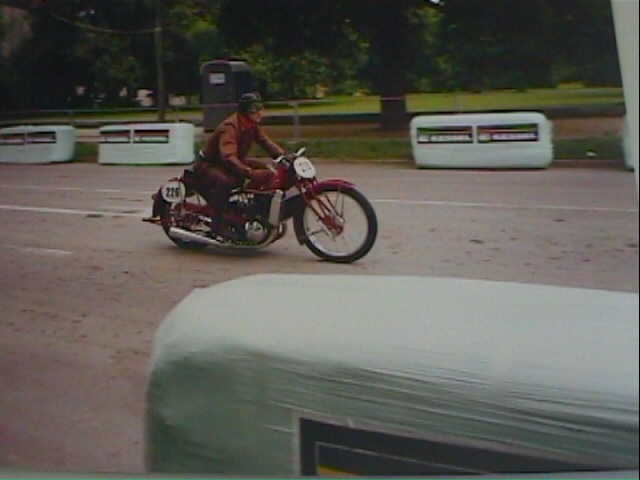 Followed by a DKW 'kettle'. This rider has really got into the spirit with authentic clothing. A decision I'm sure he regretted later as he came off on the next corner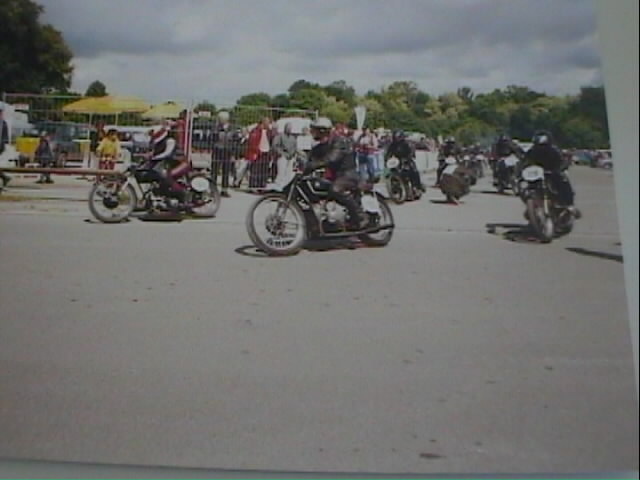 A couple of BMW's with a lady on a small Triumph in the background.
More brit iron.. a Rudge.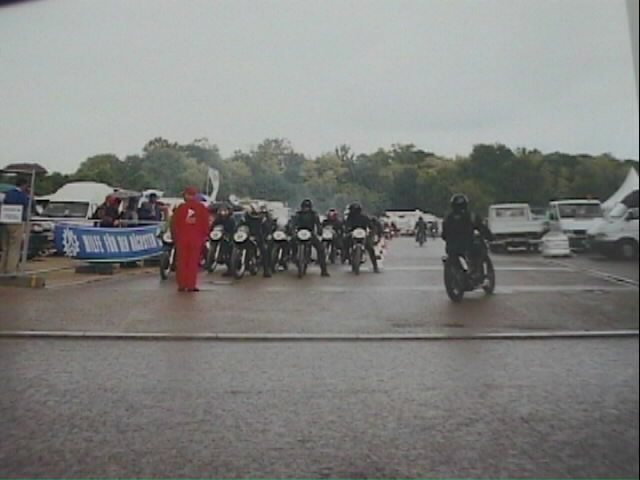 The next class forms up as the last man from round 1 comes in. It has started to rain.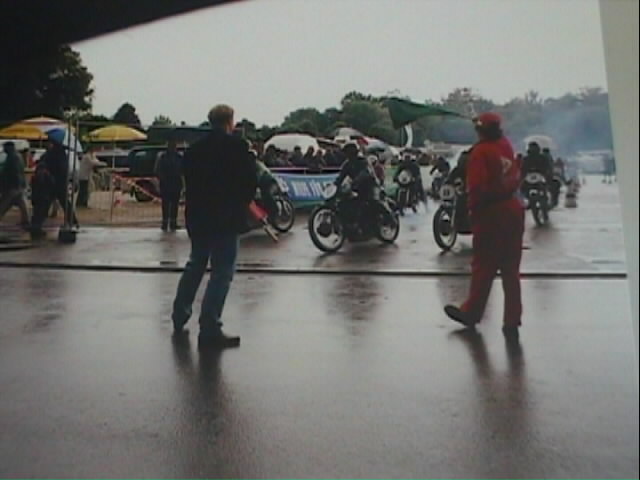 This is the big stuff, a BSA Gold Star, a couple of AJS's & an MV.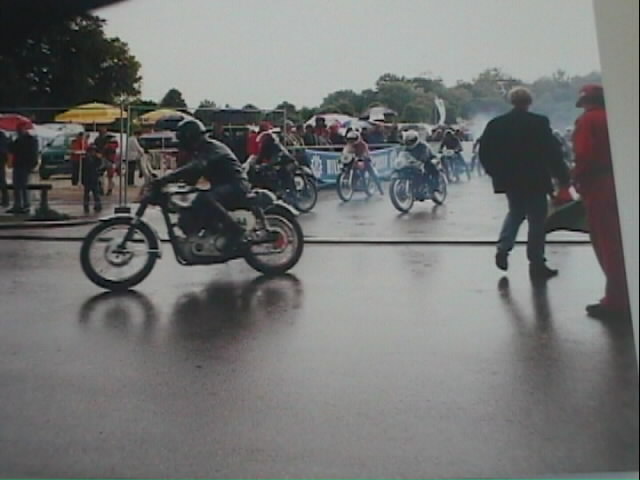 Although it has stopped raining the road is now wet & enthusiam for the 'loud handle' has waned somewhat.
;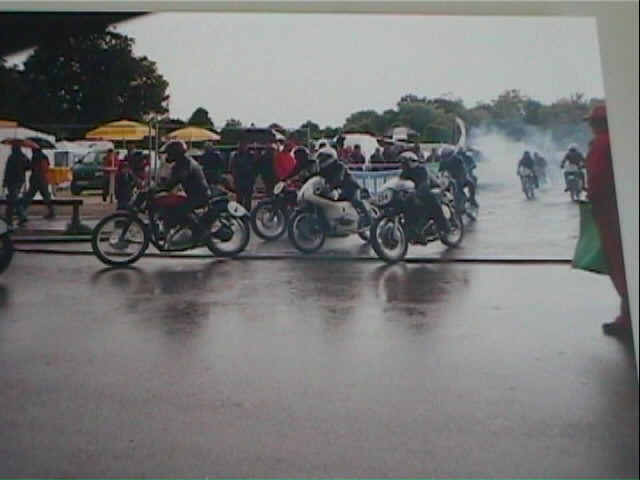 Smell the Castrol R !
rack.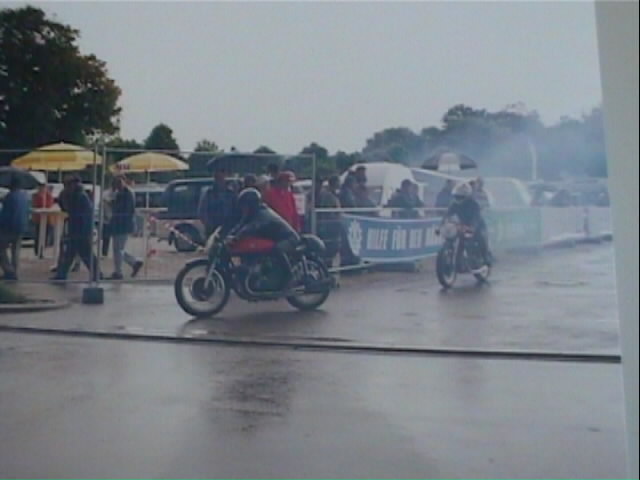 kes.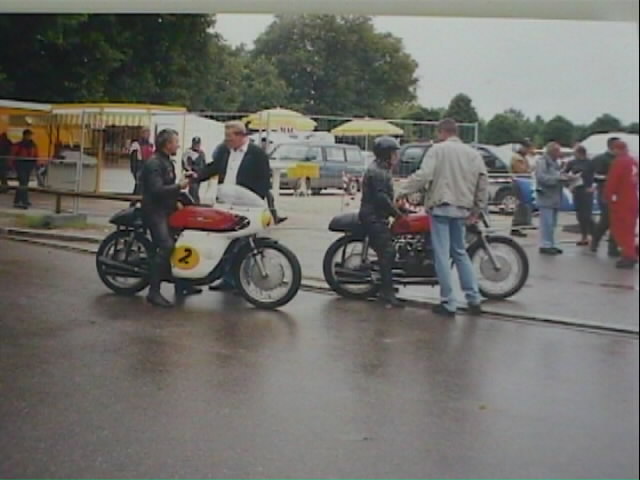 A pair of matched Italian thoroughbreds (MV's ?). These come in early. They are far to skittish (& rare) to risk on a wet track.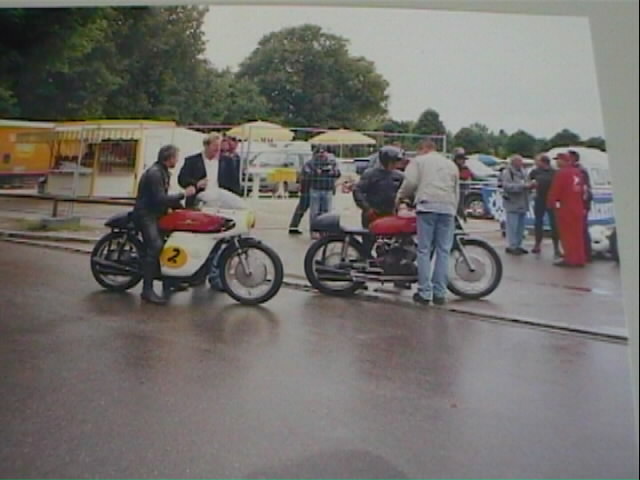 The same 2 bikes.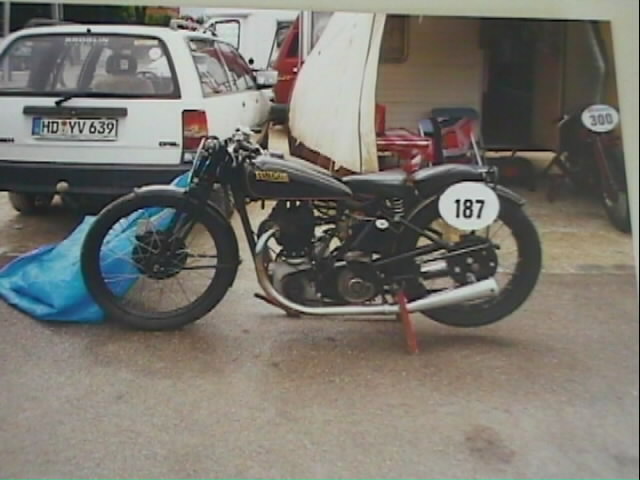 A Rudge twin.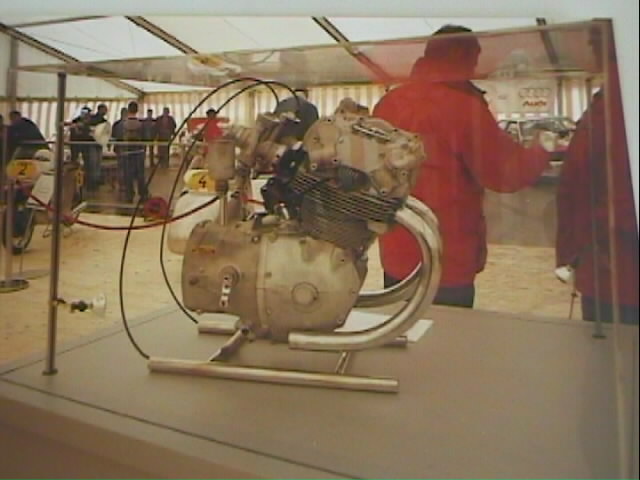 An NSU RennFox engine on display.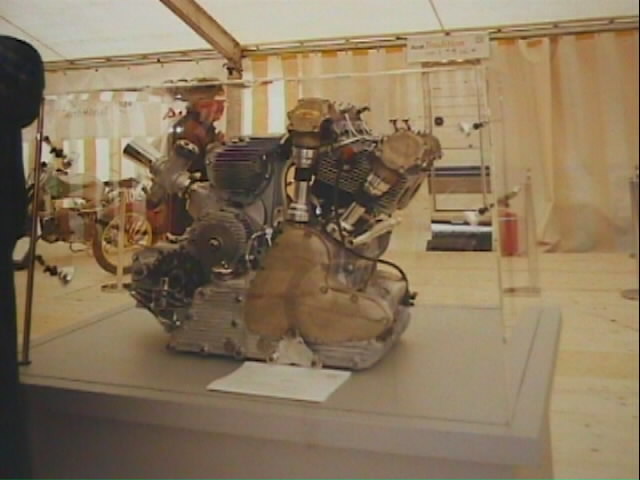 The bonkers, blown NSU RennMax from a world record speed bike.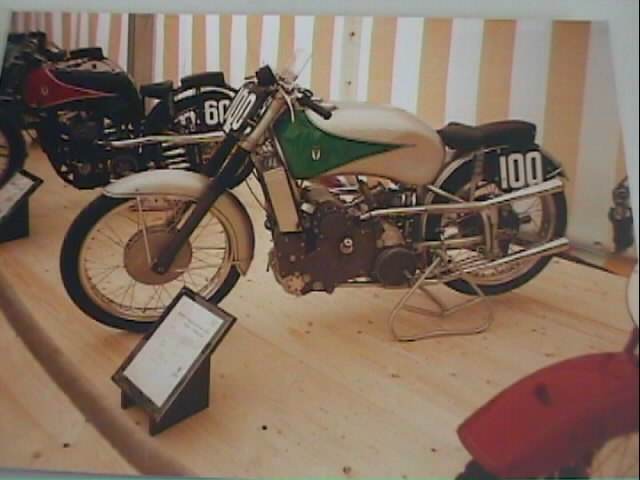 A blown NSU.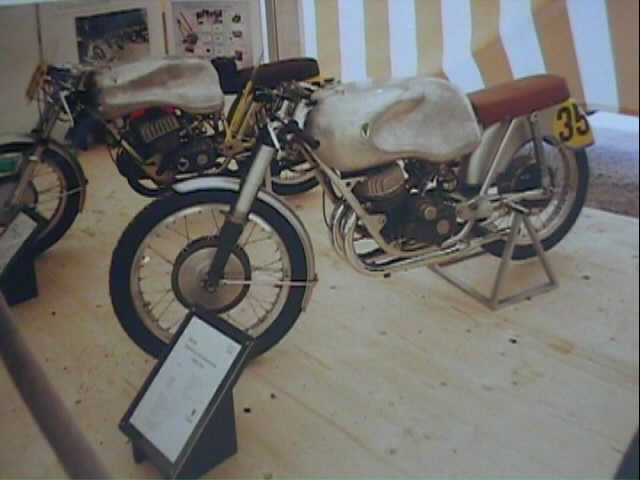 A works NSU RennFox. Note how the tank is custom formed to suit the rider allowing him to tuck in from the wind.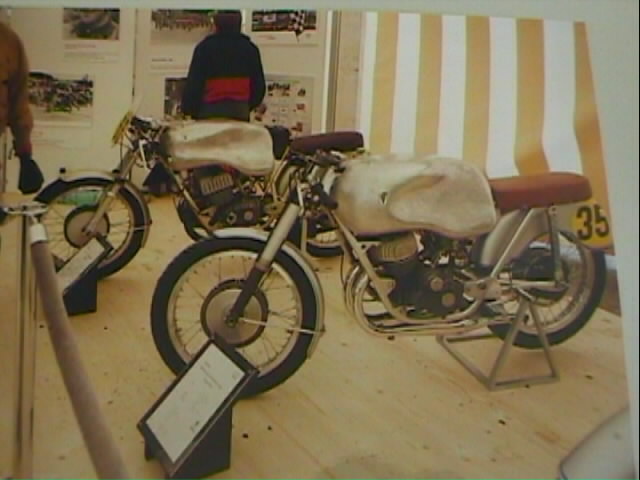 Behind the RennFox is a works RennMax.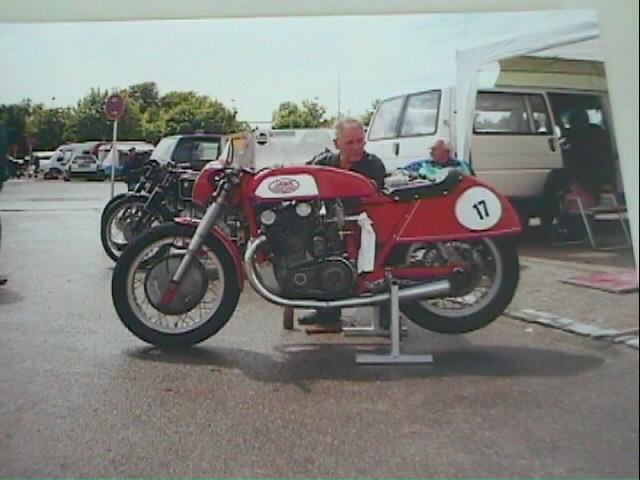 Its a JAWA, Jim but not as we know it !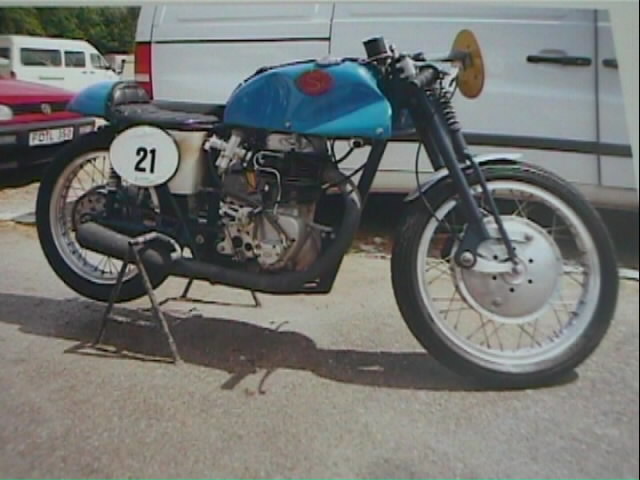 An ESO.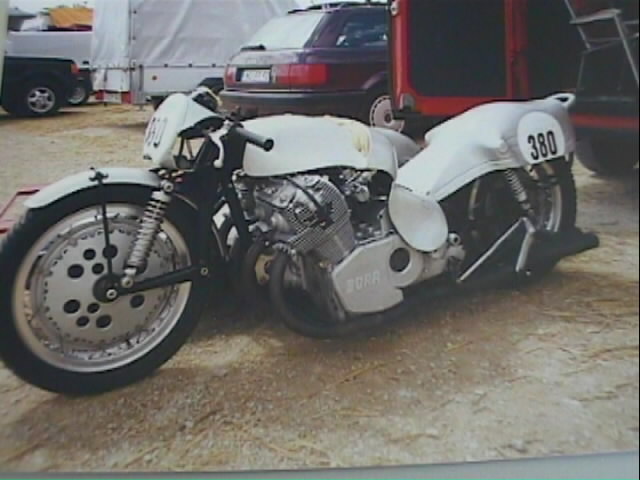 The wild, home made, 4cyl, overhead cam BORA. Good looking too.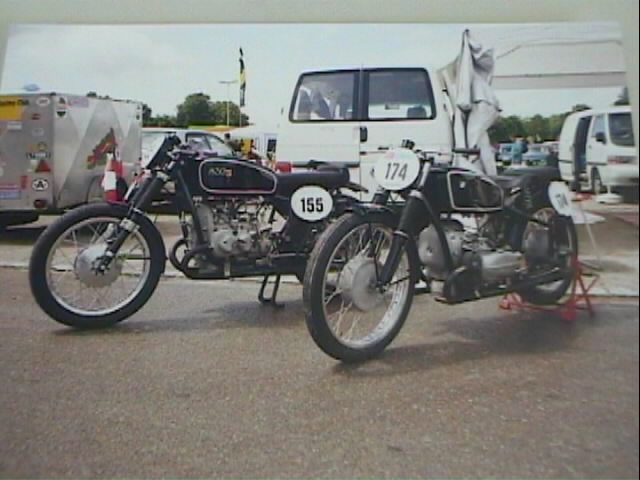 A BMW & an MSC Porz
German race ace Ernst Stroebel & the NSU RennMax he rode to victory.